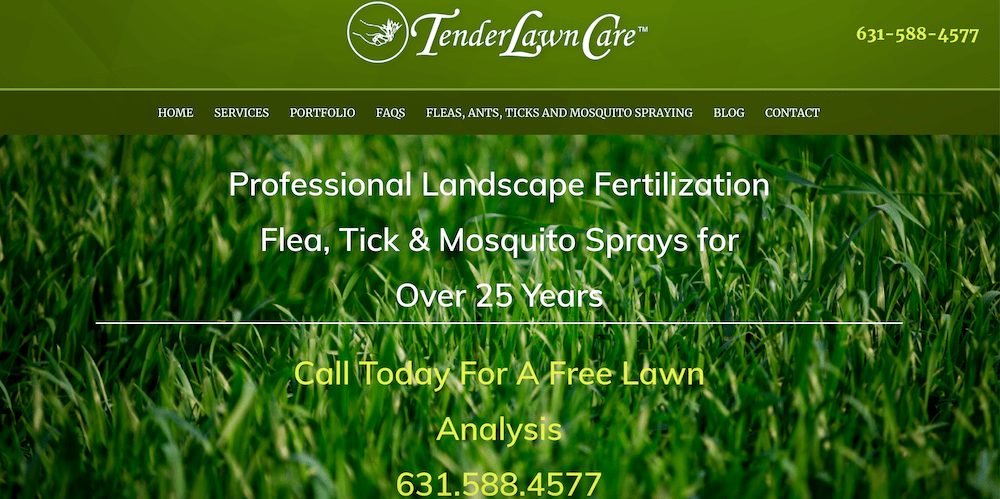 Founded by Bill Mackie over 25 years ago, Tender Lawn Care is the very best with customer satisfaction. Specializing in lawn care & maintenance for fleas, ants, ticks and mosquitoes there is no better team. We have the knowledge & skills to revive and maintain your lawn keeping it full & lush through the season. Tender Lawn Care is fully licensed & insured and uses the best materials in the industry. Our process begins with a free estimate where we will give you a lawn care analysis. After that we develop a plan for lawn fertilization & care. Our lawn fertilization treatments help get rid of weeds, crab grass and more. The maintenance division blends the right fertilizers to make your lawn dense, full and vibrant.
Tender Lawn Care Launches A New Website
In keeping up with maintenance Tender Lawn Care has decided to rebuild their website. For this task Tender Lawn Care hired Long Island web design company, Benjamin Marc.
"I've worked with Bill on several projects and I can't say enough of him & his team. With lawn care & maintenance you need to pay attention to every detail. Tender Lawn Care's approach to lawn treatment is second to none. Bill applies the same knowledge & skill to his lawn care business as he did guiding us in building his website. The new website is filled with helpful information pertaining to the lawn service industry. We broke the website down into a few separate service pages to better guide visitors to find what they are looking for. To name a few:
Lawn Service
Fleas, ants, ticks and mosquitoes
Portfolio

Since the launch we have noticed an increase in online visitors. Several website analytical softwares show a surge in new online users". Comments Anthony Savino CEO of Benjamin Marc.
Tender Lawn Care & our highly trained staff are here to answer any of your questions & concerns.